New Severn power station fired-up at Uskmouth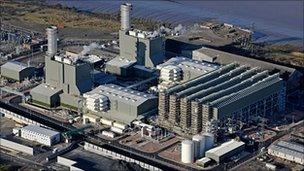 A new gas-fired power station built at a cost of £600m at Uskmouth, near Newport, has been officially opened.
DONG Energy which operates the new Severn Power Station said it has the capacity to produce electricity for around 1.5m homes.
It has been built next to an old coal power station and the company said there would be far fewer emissions.
But Friends of the Earth Cymru say it wasted energy and "fell short of what is needed to tackle climate change."
Danish-based DONG Energy said the station, built in under three years, was "one of the most efficient natural gas-fired power stations in the UK."
Operations and maintenance project manager, Kristian Kure, told BBC Wales: "Natural gas is a very clean fuel - there are no noticeable emissions of any kind.
"The process itself is very quick starting - we can start from no production to full production in 36 minutes so it gives us great flexibility."
He said it was particularly useful in supplementing energy produced by wind turbines.
"For example if the wind should stop blowing and there was a loss of wind capacity we can balance the electrical power that customers need."
But Friends of the Earth Cymru director Gordon James said it should have been built to allow waste heat to be piped to homes and businesses in the Newport area.
"In this age of climate change and rising fuel prices it can only be considered as yesterday's technology," he said.
"The power station, which will waste around a third of the gas it uses, ought to have used the much more efficient combined heat and power system.
"It would have provided a great opportunity to place Newport on the world map of cities taking a lead role in tackling climate change and developing the green economy."
Related Internet Links
The BBC is not responsible for the content of external sites.