Father 'caught buying teenage son lager' in Aberdare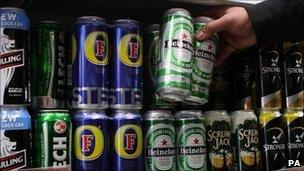 A father caught delivering a 24-pack of lager to his 16-year-old son who was waiting in the centre of Aberdare with his friends has been fined.
Police targeted underage drinking in the town to coincide with the start of the Six Nations rugby tournament.
Three people received fixed penalty notices for buying alcohol for people who were underage and an off licence will be prosecuted.
One man was issued with a court summons because he had been caught before.
Operation Yuma involved plain clothed and uniformed officers from South Wales Police and Trading Standards.
It was organised due to concerns about high levels of anti social behaviour in the town centre.
Police said there was usually an increase in incidents during the Six Nations and the operation would continue for the rest of the tournament.
Sergeant Damien Mckeon of the Cynon neighbourhood policing team said: "Drunk, unruly youths were becoming a problem in the area, and this was raised at recent Pact meetings as a real concern for local people.
"We decided to team up with trading standards to target the root cause of the problem - alcohol - and the ways by which youths get it.
"The problem in the area is largely down to the irresponsible behaviour of adults who either sell it or buy it for the youths. They are doing nothing but fuelling the issue.
"We hope the fixed penalty notices will serve as a deterrent to offenders and that the message of intolerance has got through."
Police said to coincide with the operation an alcohol-free disco was held in Aberdare and 178 youngsters attended.
Related Internet Links
The BBC is not responsible for the content of external sites.