M4 reopens after car catches fire in Brynglas tunnels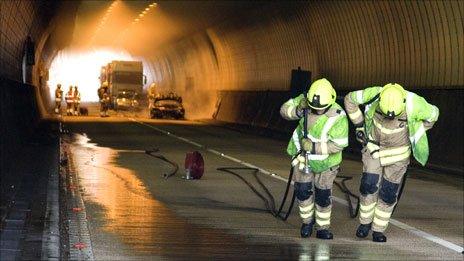 The M4 has reopened after a car fire in the Brynglas tunnels, Newport, say police.
A fault with the vehicle is thought to have started the fire in the motorway tunnel westbound at 1107 GMT, said Gwent Police.
The eastbound tunnel, which was closed for more than an hour, reopened at 1300 GMT but the westbound tunnel remained closed until 1410 GMT.
The driver of what is believed to have been a Jaguar car escaped injury.
At one point 25 firefighters were on the scene.
Emergency services said six fire engines from Malpas, Maindee, Dyffryn and Cwmbran were called to the scene.
The eastbound M4 saw queues back to Cardiff Gate, while traffic was very heavy on the A48.
Traffic queued between J24 A48/A449 (Coldra) and J28 A48/A4072 (Tredegar Park).
Tim Needs, watch manager at South Wales fire service, said they were greeted by billowing smoke in the tunnel.
He told BBC Wales: "On approach to the incident crews were faced with large volumes of black smoke issuing from the western side of the tunnel.
"One vehicle was well alight on arrival and crews were immediately employed to ensure no persons were within this or any other vehicle within the tunnel".
"Following liaison with other partner agencies the incident was quickly dealt with, there were no injuries and the incident was brought to a close".
Four teams with breathing apparatus were sent in to extinguish the fire and the eastbound tunnel reopened around 13.00 BST.
The westbound tunnel remained closed while an engineer checked if there had been structural damage.
It is the second Friday in succession there have been delays on the M4 into south Wales.
There were long tailbacks ahead of the Six Nations match in Cardiff, with high winds leading to the closure of the old Severn bridge.
Related Internet Links
The BBC is not responsible for the content of external sites.