Hip hop classes for young Gypsies and Travellers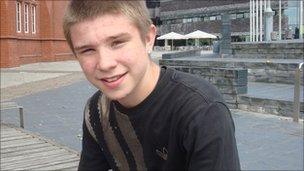 Young Gypsies and Travellers from Cardiff will be learning hip hop street dance skills thanks to a £4,690 Awards for All lottery grant.
The Newport-based Urban Circle project will be working with youngsters from the Shirenewton site.
The aim is to perform at an event to mark Gypsy Roma and Traveller History Month in Newport on 30 June.
"Gypsy and Traveller children don't get many opportunities to do things like this," said Isaac Blake of Romani Arts.
"I am particularly pleased to be bringing at least one tutor from within the community itself," he added, referring to Irish Traveller Daniel Flynn.
Daniel impressed the audience with his solo display at an event in Cardiff to mark Gypsy, Roma and Traveller History Month in June 2010.
Isaac Blake founded the Cardiff-based Romani Arts organisation to promote a positive image of the travelling communities and to break down the barriers of understanding with the rest of society.
Loren Morris of Urban Circle said the youth arts group had already worked with people from a variety of backgrounds, but this would be their first project on a Gypsy and Traveller site.
"We have worked with a number of Gypsies, Travellers and Roma people through our centre in Newport, but I'm looking forward to having the stereotypes of life on the site blown apart by these young people," she said.
"I'm not taken in my some of the very negative images of Gypsies and Travellers portrayed in recent television programmes."
The youngsters will be encouraged to develop a performance on any theme to help mark Gypsy Roma and Traveller History Month in June.
They will take part in the national event for Wales at the Riverfront arts centre in Newport on 30 June.
It will feature music, drama and performance by adults and children aimed at an audience including members of the settled population as well as travelling communities.
Younger children will be encouraged to explore their traditions through storytelling and wagon painting workshops.
A group from the Shirenewton site will also present a film put together with support from animation company Cinetig.
Related Internet Links
The BBC is not responsible for the content of external sites.