Raymond Blanc chain ends Cardiff chapel restaurant plan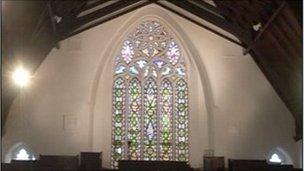 Plans for a restaurant in French celebrity chef Raymond Blanc's chain in a landmark Cardiff city centre chapel have have been scrapped.
Permission was granted last September to convert Ebenezer Chapel in Charles Street into a restaurant.
But the company has now pulled out, blaming the economic climate.
Church leaders are disappointed but said they still hoped to sell the 1855 building and move into "more suitable" premises for the 21st Century.
The restaurant chain's managing director John Lederer said the decision was a "sign of the times".
He blamed difficulties in getting finance from banks, and the fact that the cost of converting the historic Grade II 19th Century church had risen to more than £1m.
But Mr Lederer insisted that Cardiff was still amongst the places they would like to expand to in the future, saying: "We will be back".
Church members met on Tuesday to discuss the development and a full meeting will be held in March.
But the Reverend Alun Tudur said he still hoped they will be able to sell the church in order to move.
Ebenezer Chapel was built with ballast from coal ships returning from the Middle East and opened as a congregational church.
It has been a Welsh independent chapel since 1978.
Related Internet Links
The BBC is not responsible for the content of external sites.