Assembly elections could be moved, says Clegg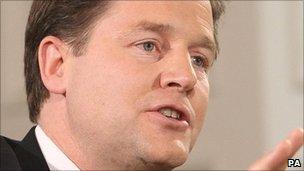 The Welsh assembly election in 2015 could be moved by a year to avoid a clash with the UK general election.
Deputy Prime Minister Nick Clegg said he would offer Assembly Members the chance to bring forward or delay the poll by up to 12 months.
At the moment the election date can only be moved by one month.
A clash in 2015 had looked likely because the UK parliament is moving to five-year fixed terms. The next general election will be held in May 2015.
The UK government has now written to the presiding officer of the assembly to make the offer.
Two-thirds of AMs would have to vote for a new date.
Mr Clegg said ministers would also consult about the assembly moving permanently to five-year terms to avoid future clashes.
He said: "We've been having a debate, listening to what the party leaders of all parties in Wales have been saying.
"We've now said it should be for the Welsh assembly and the Welsh assembly alone to decide the date of the next election, either a year before that 2015 date or a year later, in other words deferring the election until 2016 so there's no clash at all.
"I hope that will be welcome to people in Wales and to all political parties.
"It's very much intended as a sign of our respect for the separate political identity which of course is so strong in the Welsh assembly."
AMs are currently elected for four years and delaying the 2015 poll by a year would create another clash in 2020.
"That isn't something we think we need to resolve overnight, let's take it step by step. We will start a public consultation process to look at the case for that," added Mr Clegg.
Related Internet Links
The BBC is not responsible for the content of external sites.