Strikes at Cardiff primary over teacher suspensions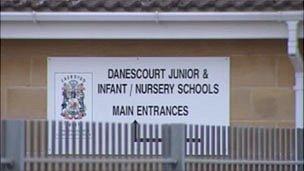 Council officials have described a strike forcing a Cardiff school to close as "hugely frustrating".
Teachers and support staff are taking a second day of action on Friday over the suspension of four colleagues at Danescourt Primary School.
A Cardiff council spokesperson said the strike came two weeks before the end of an independent investigation.
But unions say "every effort" was made to reach a compromise. Strike action was also taken before Christmas.
"To go on strike at this stage of the process is extremely disappointing and unhelpful," said the council spokesperson.
"Indeed, so close to the end of the investigation, a strike cannot have any impact on the ongoing issues other than a negative one on children and their education.
"The council has made huge efforts to avert the strike action, including approaching [the conciliation service] Acas to facilitate a resolution, and to minimise any impact the ongoing situation at Danescourt primary would have on the education and well being of children at the school."
In a joint statement, the unions NUT Cymru, NASUWT, ATL Cymru and Unison said they met representatives of the council and school governors on Monday at Acas.
"Every effort was made during the negotiations to reach a compromise but at every turn, those efforts were spurned," said the statement.
"We welcome the support and solidarity that has been shown by the parents towards the four suspended teachers and for our action."
The council has stressed previously there are no child protection issues involved at the school, which, at its last inspection report, had 348 pupils.
It was formed by a merger of Danescourt junior and infant schools in 2008.