Rhondda mining memorial appeal by Maerdy residents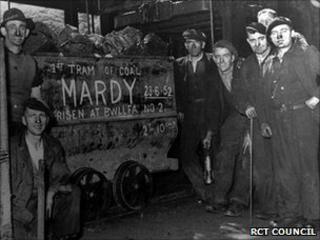 Residents of Maerdy are launching an appeal to create a memorial to commemorate the mining heritage of the Rhondda.
The Maerdy Gateway Memorial will be constructed at the foot of the mountain road to Aberdare.
It will incorporate a former pit wheel from Maerdy colliery and masonry from the village's recently demolished workmen's hall.
The £40,000 appeal will officially begin later.
It is a joint initiative of Maerdy Archive and Maerdy Communities First with the support of Rhondda Cynon Taf council.
David Owen, secretary of Maerdy Archive, said: "We have made several applications to funders for help with this project but have been told that no organisation is likely to fund the project out-right."
Alison Jones, chair of the memorial appeal committee, added: "Local residents want to show their commitment to the project and have decided to raise at least £5,000 from the community itself."
Opened in 1875, Maerdy was the last surviving deep mine in the world-famous Rhondda coalfield.
It effectively closed in 1985, although its coal continued to be brought to the surface via Tower colliery at Hirwaun until 1990.
"Rhondda was the largest coalfield of all and produced a quality mineral which made it a world-famous industrial heartland," said Councillor Robert Bevan, Rhondda Cynon Taf council's cabinet member for culture, recreation and tourism.
"We must not forget the sacrifices made by generations of workforces who worked in often treacherous circumstances to keep the British fleet afloat.
"Maerdy colliery was the last to close in the Rhondda and as a former miner there myself, I believe it is only fitting that this village remembers its proud heritage by erecting a memorial to all those who toiled deep underground and the families they supported through some of the most difficult of times.
The appeal will be launched by Mayor of Rhondda Cynon Taf Councillor Simon Lloyd and former rugby players Non Evans and Bob Penberthy at a community coffee morning.