Cardiff teenager to target more 'miracle' cure websites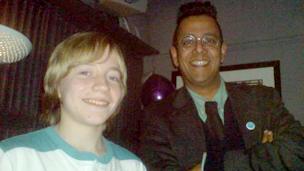 A 16-year-old praised for campaigning against a so-called miracle cure has welcomed a change in advertising rules.
The actions of Rhys Morgan, of Cardiff, who has the bowel condition Crohn's disease, helped close websites offering Miracle Mineral Solution (MMS).
The Food Standards Agency has warned people not to consume the product.
From 1 March UK-based websites must comply with advertising rules which means they cannot publish testimonials to the alleged effectiveness of MMS.
From next month, the Advertising Standards Authority (ASA) says its rules will apply in full to such online marketing.
The Food Standards Agency says MMS is equivalent to industrial-strength bleach and when consumed as directed "could cause severe nausea, vomiting and diarrhoea, potentially leading to dehydration and reduced blood pressure".
It has ordered councils to be on the lookout for retail outlets selling the product.
Rhys, who won praise from the Food Standards Agency for his campaigning, said the advertising rules change will mean more websites selling the product could be closed down.
He said: "This will be amazing. Testimonials will count as advertising so people will have to substantiate their claims [about MMS].
"It's going to make it much easier to get stuff taken down."
The teenager, accompanied by his father, Paul, was a guest speaker at an event in Cardiff on Monday night run by the lobby group Skeptics in the Pub.
The main speaker at the event was the author and broadcaster Dr Simon Singh, who has spent more than two years battling a libel threat after publishing an article in The Guardian on chiropractic.
Dr Singh said he had spent about £250,000 on legal costs fighting the legal threat and his case highlighted the need for libel law reform in England and Wales.
The ASA said from March the UK code surrounding "non-broadcasting advertising" will apply to marketing on company websites, including endorsements and testimonials.
"Advertisers will need to ensure that they hold documentary evidence that any testimonial or endorsement featured is genuine, and any claims (including the efficacy or effectiveness of a product) appearing within a testimonial or endorsement must not mislead or be likely to mislead the consumer," said the ASA.
Related Internet Links
The BBC is not responsible for the content of external sites.