Blind man tackles burglars in his Ebbw Vale house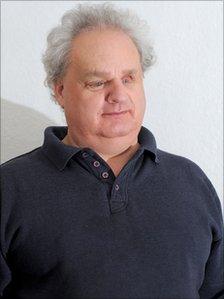 A blind man has taken on two burglars who broke into his home.
Keith Jones, 48, from Ebbw Vale, Blaenau Gwent, says he sensed where the pair were standing and tackled them.
But the raiders fled without stealing anything when Mr Jones, who has been blind since he was three, grabbed the phone to alert police.
Gwent Police, who are hunting for the two men, said: "Keith did a great job. He was incredibly brave to tackle two men he couldn't see."
Mr Jones, a voluntary worker, uses a white cane to get about in the adapted home he shares with wife Blessing, 37.
He said he put one of the raiders in a bear hug and tried to pin the other one down at the same time. One managed to escape while he kept wrestling the other by wrapping his arms around him.
But the burglar freed himself when Mr Jones grabbed the phone, and the pair got away with only an empty satellite navigation box.
He said: "I'm sure they singled me out because they thought I'd be an easy touch but they were wrong.
"It's a shame really but I couldn't hang on to him and call the police at the same time so he got away."
He said: "It was quite scary because I couldn't see the burglars but I wasn't going to let them get away with anything.
"I hope the embarrassment gets them to give up their life of crime and try something new. They could be the shame of the criminal community."
Mr Jones was able to give police a description of the burglars despite his blindness.
He said: "I could tell from their voices they were in their 30s and they had local accents.
"The guy I tackled was a little bit taller than me and he was quite fat. Hopefully police will catch them soon."
Related Internet Links
The BBC is not responsible for the content of external sites.