Daughter's plea over Llanelli oil worker stuck in Libya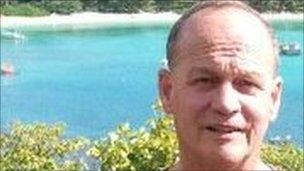 The daughter of an oil worker from Wales who is stranded in Libya has criticised the UK government for not doing more to get him home.
Ken Walsh from Llanelli, Carmarthenshire, is at a remote desert camp with about 15 other Britons.
His daughter, Natalie, said she has contacted the Foreign and Commonwealth Office (FCO), but they have not offered him a route home.
The FCO said it was trying to help Mr Walsh as a matter of urgency.
Ms Walsh told the BBC that her father has no phone and is only able to communicate by email.
He is planning to make his way to Benghazi in the hope of boarding one of the naval ships as his escape route.
"At the moment he is situated in a desert camp and they have no security, they are running out of supplies and they are trying to get a flight from the desert into Tripoli.
"What's getting to them most is not knowing anything and not having any communication with the government or the Foreign Office.
"I think they are worried that people don't know they are there or they won't come and get them and will forget them.
"They just feel abandoned."
Ms Walsh said she has been phoning the FCO constantly but they have yet to get in touch with her father.
"I definitely feel the government has let him down.
"There's a remote chance there may be a plane to take him from the desert to Tripoli on Sunday.
"But they are miles from Tripoli and it's open desert so it's a very dangerous zone."
Mr Walsh has been working in Libya for the past 10 years and splits his time between there and Llanelli.
An FCO spokesperson confirmed they had spoken to Miss Walsh.
"We have provided her with an update of what we are doing to help her father.
"Natalie has also provided us with further information about her father's current situation and we are urgently following this up.
"We are deeply concerned about the safety of Brits in the desert and are doing everything we can to help get them out.
"We are working intensively on a range of options to secure their safe passage from Libya."
Related Internet Links
The BBC is not responsible for the content of external sites.