Matthewstown to Tyntetown: council updates road signs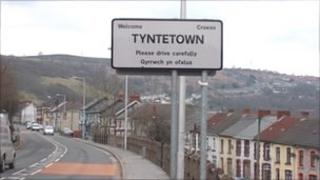 A former miner is celebrating after successfully lobbying Rhondda Cynon Taf council to restore his home town's traditional name to local road signs.
Harry Parfitt always wondered why the signs said Matthewstown when it was known locally as Tyntetown or the Tynte.
Matthews was a local farmer while Tynte was the name of the landowner.
The council accepted Mr Parfitt made a strong case and said the cost of altering the signs was minimal.
Tyntetown is in the Cynon Valley between Abercynon and Penrhiwceibr.
Local landowner Halswell Milborne Kemeys-Tynte owned the estate on which the houses were built in the 1890s giving the town its name.
Mr Parfitt believes that the name of Matthewstown may have originated from William Matthews who ran Uchaf Farm during the time that Tyntetown was established.
But he said the evidence pointed to Tyntetown as being the historically accurate name.
"Halswell Street, Milbourne Street, Walsh Street and Bagot Street in the town are all named after members of the Tynte family," he said.
"You won't see the name of Matthewstown on any Ordanance Survey maps.
"The local church is called the Church of All Saints, Tyntetown. The parish of Tyntetown in Ynysboeth was created in 1923.
"If you look at the original deeds for the houses in the area you'll see it's called Tyntetown too."
Mr Parfitt wroted about the issue to his local newspaper who published his letter along with an article about the town's name.
He says a number of local people contacted him to say they agreed with his viewpoint that the town's correct name was Tyntetown.
A spokesperson for Rhondda Cynon Taf council said: "The council is committed to listening and responding to the needs of the local community.
"Following representations from Mr Parfitt, in which he made a strong well reasoned case for the name Tyntetown to be used in replace of Matthewstown, the council arranged for the change to be made."
"The cost of making the change was minimal, as the council were able to retain the original sign face, and just replace the lettering."
Mr Parfitt says he was delighted to see the new signs go up in February.
"I didn't expect the sign to be changed but I'm very pleased that it has happened."