Female Hindu priest conquers holy ground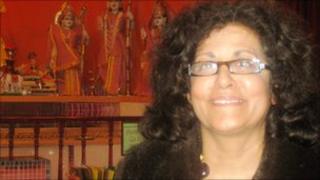 To mark the centenary of International Women's Day, radio producer Safiya Sayed Baharun of the BBC World Service profiles three female religious leaders for a documentary, Conquering Holy Ground. Chandrika Joshi, a Hindu priest and special needs dentist based in Cardiff, is one of the three women featured.
This edition of the weekly Heart and Soul programme looks at how these women are trying to break into a traditional male domain.
When I initially met Chandrika I had no idea that she was a woman of many talents.
She was introduced to me as the priest of the Sanatan Dharma Mandala and Hindu community centre which is located in the Parade in Cardiff.
Within seconds of meeting Chandrika she quashed all the stereotypes of what a Hindu priest looked like.
The most uncharacteristic feature about this Hindu priest was that she was a woman and Hindu priests traditionally tend to be men. For a split second I thought perhaps I had misheard the introduction.
Chandrika explained how Hinduism as a religion gave women equal rights.
"Hinduism is supportive of women. That is my personal view and Hinduism gives equal rights to women but that doesn't mean society does," she said.
"So what you may have is a society which will twist the rules slightly because they don't want to see the women as equal."
Another unusual feature of the female Hindu priest was that she was dressed in Western attire and spoke fluent English with a Welsh twang.
She was very bubbly and approachable. I noticed how she lit up when we spoke about Hinduism and was able to explain the ancient religion in a manner that was understandable to all.
This truly was a gift as I know of Hindus who struggle to fully understand their religion as most of it gets lost in translation because the majority of the prayers and ceremonies are conducted in Sanskrit and not English.
While conversing with Chandrika I discovered that she was also a special needs dentist. She's been doing this job for the past twenty two years.
I visited the special care surgery in Barry where Chandrika works. Her dedication to the patients is second to none and it was clear that she is definitely a people person, a quality which is paramount in both her professions.
Chandrika's dual role doesn't strike her as unusual: "I just see it as me. They work really well together. I really really enjoy both of them very much."
Chandrika is of Indian heritage and spent her childhood in Uganda. Her family came to Wales in the 1970s when they were made refugees by Idi Amin's regime. She comes from a family of priests and was trained by her father.
"When I was a little girl as soon as my father came home from his priestly duties I used to put his shawl on my shoulder and wear his shoes," she said.
"I would tell all the children that when I grow up I'll be like daddy."
After her father suffered a stroke Chandrika's mother carried out various priestly duties in Uganda but quickly withdrew when her father was able to work again.
Her mother felt uncomfortable in taking the centre stage in mixed congregations but continued to lead services during festivals attended by women.
A generation on and Chandrika is one of the few women in the United Kingdom breaking the mould by conquering holy ground in an area which is traditionally dominated by men.
Chandrika's story is told along with that of a female Muslim imam who leads mixed congregational prayers in Germany and a woman who has been convinced for the last 30 years that she has a vocation to be a Catholic priest.
Heart and Soul: Conquering Holy Ground can be heard on BBC World Service from Thursday 2 March to Sunday 6 March - listen on BBC iPlayer