£3.9m revamp set for Penarth Pier's pavilion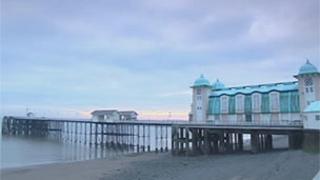 Ambitious plans to restore a pavilion on a Victorian pier are expected to be approved later.
An arts group wants to turn the "iconic building" on Penarth Pier, Vale of Glamorgan, into a new £3.9m leisure facility.
And council planners say the proposals have the potential to "significantly enhance" the local economy.
Plans include a restaurant, small cinema and lecture hall as well as shops.
The pavilion was built in 1928-9 and has been used as a dance and concert hall in its early years, though since the 1970s it has been used in several different ways, including as a nightclub and snooker hall.
A gymnastics club now uses it, although the council report says the building is in a "poor state of repair" with the upper floor areas unused.
The building is described "iconic" with a curved roof, Eastern-style towers and a vaulted ceiling.
The proposals by Penarth Arts and Crafts Ltd are to create a multi-use community and leisure facility.
Coastal observatory
The plans for the seaward end of the ground floor could feature a small restaurant, with a shop and "learning space" at the restored foyer at the landward end.
The first floor could be converted to a small cinema and lecture hall theatre.
And suspended walkways could connect the theatre with a bar and conference area at the seaward end.
There is a second floor at either end of the pavilion, with a "coast watch" observatory proposed.
The council report says the "most striking element" of the proposals would be the cladding of the concrete roof with copper.
"The proposed uses should ensure the pavilion is better maintained in the future, with the potential increased usage of the building seen as beneficial to safeguard the longevity of this listed building," says the report.
"The proposed mixed use of the pavilion has the potential to significantly enhance the economic viability of both the pavilion and also have a beneficial economic impact to local businesses, through attracting more people to the area for leisure or tourism purposes."
Vale of Glamorgan council's planning committee is being recommended to approve the plans.
The pier, built in 1894, was refurbished with help from the Heritage Lottery Fund in the 1990s.