Cowbridge livestock market's 12-month closure reprieve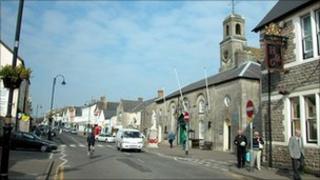 A 200-year-old livestock market in the Vale of Glamorgan has been saved.
Cowbridge market faced closure at the end of March, but has been given a 12-month extension.
The operators had been seeking a longer lease allowing the local council to take possession with six months notice if an alternative use was found.
Council leader Gordon Kemp, said: "This is great news for Cowbridge and the farming community.
"The immediate future of the market is secure and we wish the market operators a successful trading year."
Andrew Thomas, of Herbert R Thomas, which operates the market in conjunction with Watts & Morgan as Glamorgan Mart, said: "We're delighted we have been able to secure the short term future of Cowbridge livestock market for the benefit of the farming community of Glamorgan.
"On behalf of Glamorgan Mart we would like to say thank you for all the support we have received from the rural community and the town of Cowbridge.
"Our thanks also go to the leader of the council, Gordon Kemp, for his assistance in facilitating an agreement."
Historic cattle markets occupying prime town centre sites have come under pressure from developers in recent years, with many closing or facing relocation out of town.
In February 2000 the Vale of Glamorgan council published a development brief outlining the possibility of relocating Cowbridge market and using the site for retail, commercial or residential use.