Pontypridd father sets up 'safer' child social network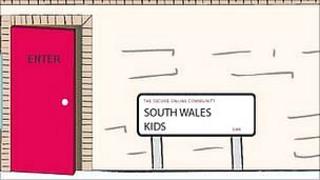 A father-of-four has been inspired to set up a safer social networking site for children after seeing his own teenage children using Facebook.
IT Project manager Hywel Dance, from Pontypridd, developed the site South Wales Kids.
It is designed for under-18s and works alongside schools and youth clubs.
The idea for a social networking site was initially inspired by his oldest son Joshua who was looking money making ideas to help fund a school trip.
Mr Dance says "As a parent myself I know the concerns about people using fake identities to befriend children on social networking sites."
"We wanted to build up relationships with schools and youth clubs. All the children who use our website must be under eighteen and attend a school or club where the staff have been CRB checked."
"Our ethos is responsible social networking."
"The schools and clubs we work with log onto the site and verify the identity of the user before they're able to access the website."
Mr Dance has been working outside Wales for 15 years as an IT Project manager and has most recently worked with the UK Border Agency on the roll out of Biometric security gates at airports.
He set up the website last year with the help of fellow IT specialists.
While the site was in development Mr Dance contacted the Child Exploitation and Online Protection Centre (CEOP).
He said their initial plan when setting up the website had been to require children to be 14 years and above to join, which is the same as other social networking sites like Facebook and Bebo.
Radio shows
"Whilst we were in discussions with CEOP, they asked us to drop the lower age limit as they wanted to encourage children to join our site rather than lie about their age and join other social networking sites."
"We have installed the click CEOP button on the website which allows users to report abuse and offers access to help, advice and support."
Mr Dance has also developed a radio station on the site. Children can download free software and record their own radio shows which will be broadcast on the website.
He first piloted the website in his former school Pontypridd High and is now working with schools and clubs across the Cynon Valley. The site currently has 656 members and the plans are roll it out across the UK, using the website name Great British Kids.
"We've had fantastic feedback from the children who use our website. They love the close knit community feel of the site."
He said his own children are delighted with the website.
"The kids are thrilled with it. It's a bit of a change for them to be so closely involved in what I'm doing and their feedback has been absolutely invaluable. I think they understand social networks better than I do!"