Techno thriller writer Craig Thomas dies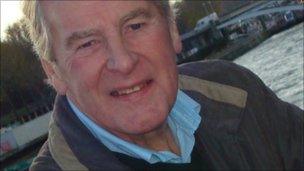 Thriller writer Craig Thomas has died at the age of 69, it has been announced.
Fans regard the Cardiff-born author as the inventor of the techno-thriller genre which includes his book, Firefox, made into a Hollywood blockbuster.
The 1982 movie starred Clint Eastwood as the US fighter pilot and spy Mitchell Gant, a character in a series of Thomas's books.
The former English teacher was educated at Cardiff High School.
He was the son of the well-known Western Mail rugby writer JBG Thomas.
In a writing career spanning 30 years, Thomas's novels were regarded as being "meticulously" researched, with "cutting edge technology" which made him an international bestseller, according to friends.
He wrote in his spare time during 11 years teaching English in grammar schools in the West Midlands.
Thomas and his wife Jill lived for many years in Staffordshire, but recently moved to Somerset.
He recently finished a two-volume commentary on the German philosopher, Friedrich Nietzsche.
He died from pneumonia following a short, but intensive battle with acute myeloid leukaemia, according to a statement released by his wife.
Related Internet Links
The BBC is not responsible for the content of external sites.