Paris-New York plane lands at Heathrow after problems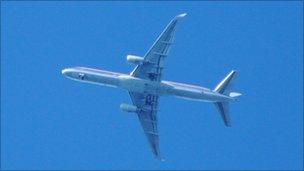 An American Airlines plane which experienced difficulties over south Wales has landed safely at London Heathrow.
The Paris to New York flight was diverted after experiencing technical problems.
It circled for two hours in a loop at 10,000 feet over the central south Wales area from Caerphilly to Brecon.
American Airlines said it was not yet clear what caused the issues on board flight AA121.
The plane left Charles de Gaulle Airport at 1437 BST and eventually landed at Heathrow some three-and-a-half hours later for a "precautionary check".
Eyewitness reports had said they could see only the nose wheel down and the airline confirmed it developed issues at around 1600 BST, as it was flying over south Wales.
But a spokeswoman dismissed fears of a forward undercarriage malfunction by saying it would have been deliberately deployed to increase drag while the aircraft used up fuel before it landed in London.
Related Internet Links
The BBC is not responsible for the content of external sites.