Ex-medical centre which inspired Bevan's NHS for sale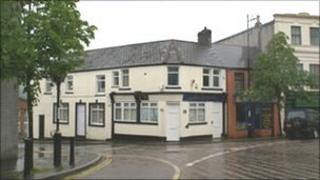 A former medical centre in Blaenau Gwent believed to have inspired the NHS has been put on the market.
Number 10, The Circle, once housed the offices of the Tredegar Workmen's Medical Aid Society.
Tredegar-born Aneurin Bevan, the then UK health minister, used the scheme as a model for the National Health Service when it was founded in 1948.
News that the building is up for sale comes just a month after a "heritage summit" was held in Tredegar.
People in Tredegar were urged to attend the summit to discuss ways to save the town's threatened listed and historically significant buildings.
As well as the medical aid society, buildings which need to be saved include the National Coal Board Club and the old general hospital.
Tredegar town council leader, Malcolm Cross, said a "For Sale" board was up on the old medical society building.
"It's difficult, we don't want to lose it, because of its heritage," he said.
"We'll try to see if someone could step in to buy it, to keep it and protect this heritage," Mr Cross added.
The building is laid out as offices and is now empty.
Coun Alyson Tippings, deputy leader of the town council, said that in the current economic climate it was no surprise that the building was for sale.
She said it was important this part of the town's heritage was preserved.
Ms Tippings, who was born in Tredegar, said: "Everybody refers to the building as the medical aid building, even though it has been many things since.
"The schools teach the story of the building and its contribution to bringing about the NHS.
"We hast lost Aneurin Bevan's house. That was removed some time ago. We feel that it's important that this building is preserved."
Ms Tippings said the council was meeting on Wednesday to discuss the building's sale.