St John's Church, Cardiff, hosts 'drum & bass Easter'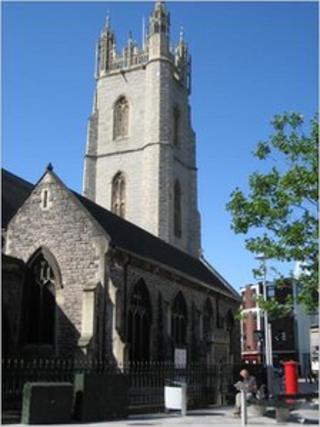 A city centre church hosted a drum and bass version of Easter to pubbers and clubbers on Good Friday.
St John's City Parish Church, in Church Street, Cardiff, staged "a multimedia experience" to which passers-by were invited.
Organiser the Rev John Karran said the event was a depiction of Christ's journey to the Crucifixion using projections, lasers and music.
"It's repackaging the old story in a way that interests people today."
The event, called What's So Good About Friday?, was orgnaised by Solace - a church group which meets in pubs in Cardiff.
Around 13 members of the group, aged between 18 and 30, transformed the inside of the building with video projections, loud dance music, strobe lighting and lasers.
"The idea is that folk will be invited in off the street to have a look around, have a cup of tea, or just stick their heads in out of curiosity," said Mr Karran, 30, originally from Magor in Monmouthshire, before the event took place.
"It's the third year we have done this. We started off three years ago in Trecco Bay, Porthcawl, experimenting really. But over the succeeding years we have learned and the event has come of age this year."
Mr Karran said the aim was to engage people in the Stations of the Cross - Christ's journey to the Crucifixion - using all the senses.
"It's bridging the traditional concept of what the church does at Easter but in a more contemporary 21st Century package," he explained.
Mr Karran said the event in previous years had shown that pubbers and clubbers want to take advantage of an opportunity to sit and reflect.
"People are interested," he said. "It does work. People have been coming in. We haven't had floods of people but the people we have met outside the church have wanted to come.
"Some of the conversations we have had with people who have come in have been very interesting and deep.
"A lot of people are carrying around issues and baggage. In many cases socialising is a way of not dealing with your issues.
"If you present people with an opportunity, or space, or time where you can begin to deal with some things you have got going on in your life, they take it - especially if it's all done in a non-threatening way.
"It's surprising but if you offer people that opportunity they do take it.
As well as pubbers and clubbers, the event attracted homeless people and other young people out and about in the city centre.
Solace was set up in April 2007 to engage with younge parishioners, explained Mr Karran.
"It's a pub church, we meet in a pub. Some older Christians have had issues with the whole idea of Solace but most people have been really supportive.
"They like the idea and think it's worthwhile."