Son helps alert his mother Jane Gustard to skin cancer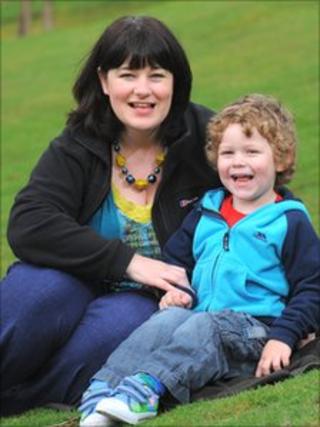 A mother was saved from skin cancer when her toddler son kept pointing at a small mole on her neck.
Jane Gustard, of Blackwood, Caerphilly county, said she probably would not have sought treatment if Ianto had not alerted her to the blemish.
Doctors told her she had skin cancer and treated her immediately.
Ms Gustard, 37, has now been given the all clear and she said she was "thankful" she visited the doctor when she did.
"Ianto is a very special boy and helped me catch my skin cancer early," she said.
"It began with a small mole on my neck, almost like a freckle, but when I was pregnant it seemed to get bigger.
"Ten months after Ianto was born the freckle got bigger and it was only when he turned one that he began to notice it more and [was] pointing to it."
She said Ianto continued to ask her about the mole, and the rest of her family also became worried.
"My mum noticed it had got bigger and, along with my husband, nagged me into going to the GP," she said.
"But if my son hadn't kept pointing to the freckle I don't think I would have done anything about it."
Ms Gustard was referred to a skin specialist who immediately diagnosed a malignant melanoma.
Cause for concern
"The consultant took one look at it and said he was going to remove the mole that day. I was shocked," she said.
"I knew then it was the worse type of skin cancer to have but I was thankful that I had gone to the doctor when I did."
The history lecturer is backing a campaign to make people aware of the dangers of skin cancer.
She said: "It can happen to anyone but people do need to be really careful in the sun.
"There is no point putting yourself through all that for the sake of a tan."
She is supporting Cancer Research UK's SunSmart campaign which encourages people to enjoy the sun safely and avoid sunburn.