Miskin street sees eight babies born within seven weeks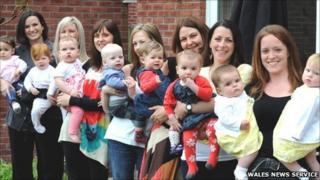 Mothers in one street are now calling it "Fertile Wood Drive" after eight babies were born to seven of them within seven weeks.
The women, from Crystal Wood Drive in Miskin, Rhondda Cynon Taf, became firm friends as, one by one, they each became pregnant.
The new mothers are now looking forward to the babies' "shared" first birthday.
They plan to celebrate their "bizarre but brilliant" situation with a street party on royal wedding day.
Teacher Nia Edwards, 34, set the ball rolling when her twin girls, Mali and Elen, were born on 10 April last year.
She was closely followed by six of her neighbours, who all gave birth within the next seven weeks.
"A few of us had never really spoken to each other before, but we're great friends now," she said.
"I bumped into one of the girls at a doctor's appointment and we thought it was a big enough coincidence that we were both pregnant. Then we heard about all the others in the street.
"Now the street's got its own little baby club."
Growing together
The women, who now enjoy weekly get-togethers, have dubbed themselves the "Fertile Wood Drive" group.
They have already decided to send all the children - seven girls and one boy - to the same school in Llantrisant.
They are also planning a joint first birthday party for their little ones to coincide with the wedding of Prince William and Kate Middleton next Friday.
They will celebrate with a street party and watch the wedding on a big screen.
Kirsty Davies, whose second child Macsen was the seventh baby born to the group, said it was "bizarre but brilliant" that they had all been pregnant together.
"When we found out how many of us were expecting at the same time, one of the girls invited us all round to her house for a get-together," said the 34-year-old, who is also mum to Lily, three.
"Now we all meet up at least once a week with the babies - we'll go for a coffee or to the park.
"And we all babysit for each other, which is a great help for new mums.
"It will be so lovely to see them all grow up together - it's like an extended family."