Sheridan Bartlett, 19, to become Blaenau Gwent mayoress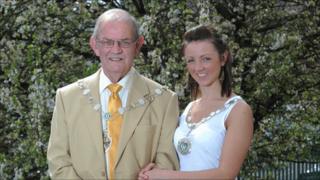 A teenager from Blaenau Gwent has become the borough's mayoress at the age of 19.
Sheridan Bartlett will wear the ceremonial chains of office and attend civil functions throughout the borough.
She will fill the shoes of her grandmother, who died from diabetes two years ago, before taking up office.
Grandfather Mike Bartlett - the incoming mayor - said she would be "perfect" for the role and had "an easy way with people".
Sheridan's grandfather becomes mayor next month.
However, as his wife Maureen died two years ago, aged 68, Mr Bartlett asked his granddaughter to step in as mayoress.
Care worker Sheridan has spent the past year learning the ropes as the borough's deputy mayoress, and will step up to the full role next month.
She said: "Some people may think it's strange that I'm a mayoress at my age but I'm looking forward to it.
"I want to be a role model for younger people and show that not all mayors and mayoresses need to be old!"
"Everyone has been really supportive of me and my boyfriend doesn't mind that I'm always going out with my grandad."
Mr Bartlett, 69, a councillor for 12 years, said: "A lot of people are looking forward to seeing someone younger as mayoress.
"Sheridan will be perfect for the role, she is very caring and has an easy way with people - she will talk to anyone.
"I am telling everyone she is Blaenau Gwent's answer to Kate Middleton."