Smoke billows from Bryncethin industrial estate blaze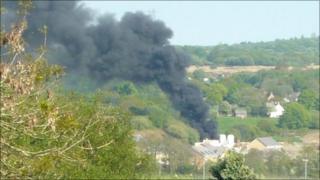 Firefighters have been tackling a blaze at an industrial estate on the outskirts of Bridgend.
South Wales Fire and Rescue Service said building materials caught fire at the Brynmenyn Industrial Estate at Bryncethin.
The service said the fire was producing a lot of smoke, which made the blaze appear much worse than it was.
Firefighters were called at 1619 BST on Sunday, and one fire engine was in attendance.