Royal wedding: Cardiff and valleys stage most parties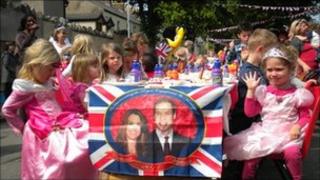 People in Cardiff and the valleys are holding street party celebrations to toast the newly-wed Duke and Duchess of Cambridge.
About half of an estimated 200 street parties in Wales have been taking place in the capital and Rhondda Cynon Taf, according to council figures.
The royal wedding was shown live on the BBC Big Screen in The Hayes, Cardiff city centre, where Roy Noble also presented his BBC Radio Wales afternoon show..
In Caerphilly, the Mothers' Union at St Martin's church is holding an exhibition of their own wedding dresses and photos as a celebration of married life.
The oldest dress on show dates from a wedding in the 1950s during a time of rationing, when the bride and her family had to save enough coupons to buy enough material for the dress.
Although Torfaen has hosted just four street parties, children at Hillside Primary School in Blaenavon were among those who staged their own wedding, with pupils playing Prince William and Kate Middleton.
Rugby stars Gareth Thomas and Martyn Williams attended the wedding as guests of Prince William, a patron of the Welsh Rugby Union, while designers from south east Wales supplied clothes for a number of guests at Westminster Abbey.
Lorraine Stone from Porthcawl was commissioned to design and make an outfit for Miss Middleton's great aunt and is supplied a dress to Lisa Jones, wife of First Minister Carwyn Jones.
Mrs Stone told BBC Wales: "It's fantastic to be part of it and I'm very proud I will have two outfits at Westminster Abbey on the day.
Monmouth-based dressmaker Philippa Barton and Abergavenny milliner Alison Tod dressed around 20 guests.
Meanwhile, Porthcawl's very own Catherine Middleton, who describes herself as a "senior citizen", spent the day watching her namesake's nuptials on television with her family at her daughter's house.
Several couples were tying the knot on Friday, including Michael Davey and Debra Kahn in Ely, Cardiff.
Mr Davey said they booked the date more than a year before the world became interested in another couple's big day.
"They pinched our date, we did not pinch theirs," he said.
But he added that the extra bank holiday meant more guests had the day off work to attend their wedding.