Fire crews fight blaze at Billybanks flats in Penarth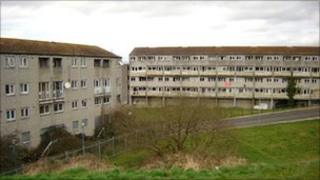 Fire crews are tackling a large fire at a derelict housing estate in the Vale of Glamorgan.
Around 20 firefighters were called to the Billybanks or Penarth Heights estate in Penarth at 1624 BST on Wednesday.
The blaze broke out in flats on third and fourth floor buildings.
Two water bowsers and a hydraulic platform are being manned by crews from Penarth, Cardiff Central, Barry and Caerphilly.
It is believed the estate is unoccupied.
By 1845 BST, the fire was contained to small pockets of fire in roof voids at the flats.
South Wales Fire and Rescue were called to a blaze at the same flats last September.
The site had remained derelict for years and had become a target for vandals and squatters.
A new housing development is set to replace the existing homes by 2017.