Cardiff's Pierhead clock mechanism to become street art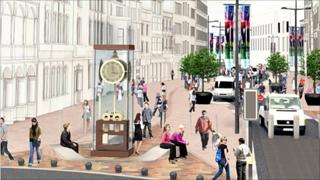 The original clock mechanism which powered Cardiff's version of Big Ben is to go on display as a piece of contemporary street art.
It was installed in the waterfront Pierhead building in 1897 but was replaced by a motor and sold to a collector in 1973.
The mechanism was bought back in 2004 and has been reassembled and restored.
The clock will be installed opposite Cardiff Castle later this year in the pedestrianisation of St Mary Street.
Cardiff council is paying nearly half the £147,000 cost with the rest funded by grants and sponsors.
The turret clock mechanism, designed by Baron Grimthorpe and built by William Potts & Sons of Leeds, is almost identical to the one which powers Big Ben in London.
It weighs approximately 1,000lb (454kg) and had to be wound manually once a week for the clock to keep time.
By 1973, the mechanism had stopped working and was replaced with an electric motor.
British Rail, who then owned the Pierhead building, sold the Victorian mechanism at auction to a clock enthusiast who sold it on to an American collector who planned to use it to restore another clock.
Alan Heldman, from Birmingham, Alabama, never completed the task and 30 years later offered to sell the clock back to its home city for the £5,000 he had paid for it.
It went on display at the Old Library in The Hayes as part of Cardiff's centenary celebrations in 2005 but then went into storage pending a decision on a permanent home.
At first it was planned to install the clock in the St David's Centre and later to incorporate it in a proposed "glass needle" skyscraper near Cardiff Central railway station, but plans for the building were dropped in summer 2010.
City planners have now decided to unveil the clock in St Mary Street in November following completion of the pedestrianisation scheme.
Artist Marianne Forrest is preparing it for installation as a public artwork and working clock at the castle end of the street.
Pat Thompson, commercial development manager for Cardiff council and the man who brought the clock back to the city, said St Mary Street was an ideal location.
"This was where the ships would come, anchoring at Quay Street before the Taff was diverted.
"It's a symbol of Cardiff as a dock and a port - nobody would ever have seen it if we'd put it back in the Pierhead building."
In a reference to Cardiff Castle's animal wall and the Marquis of Bute's love of animals, the clock will feature as part of its design three metal monkeys, one of which will strike the hours with a hammer.
The Pierhead building itself, formerly the offices of the Bute Dock Company and later the Cardiff Railway Company, was reopened as a visitor attraction in March 2010.