National Theatre Wales shortlisted for Gulbenkian award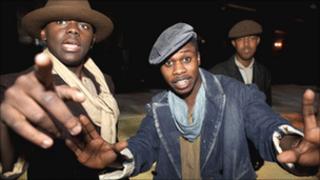 A National Theatre Wales performance project with poets and writers from Butetown, Cardiff, has been shortlisted for a £175,000 arts prize.
The project is one of only six ideas selected from 62 proposals from across the country.
The winner will have two years in which to create a "a new and spectacular production" that involves local people.
It is the first year of the Gulbenkian award, which calls itself Britain's biggest performance award.
Organisers say the aim of the award is to bring the arts together with disadvantaged communities while creating work of "uncompromisingly high artistic standards".
The National Theatre Wales (NTW) project, called De Gabay (The Song), hopes to build on the relationship it has developed with the communities in Butetown over the last two years.
The heart of the show will be a performance devised by four young Welsh-Somali performers, accompanied by an 'extraordinary public event' led by artists from Butetown and around the world.
Community ambition
John McGrath, artistic director of NTW, said that the staff and young people working on the project were proud of being shortlisted.
"It's a big thing, everyone feels good about it," he said.
He said that NTW was committed to working with local communities on the project whatever happened but that winning the prize money "would allow us to do something on a scale we could never ever have imagined".
National Theatre Wales was also behind the three-day play involving Hollywood actor Michael Sheen over Easter in his home town of Port Talbot.
'[Our approach is] rooted in local communities from our work in the valleys to the Passion in Port Talbot.
"We want to create exciting pieces of theatre that everyone in the will want to see," he said.
The Calouste Gulbenkian Foundation will announce the winner of the grant in June, with £75,000 being awarded immediately to work on the production. A further £100,000 will be given for the final production in 2013.