Kiosk sees artists take over Newport market stall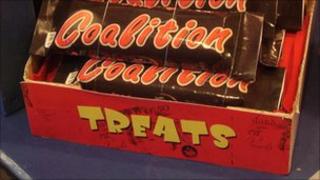 Artists have taken over a market stall in Newport to set people thinking about the power of advertising.
Julia Warin and Jeff Pigott have created a blue booth packed with fake food and drink products featuring satirical slogans and messages.
Kiosk was commissioned by the Open Empty Spaces project with support from the Arts Council of Wales.
Curator Sam Aldridge said the idea was to make people think about the way they are attracted to products by packaging.
"There are different objects referring to different subjects, such as the recession, recycling, and consumption," he said.
"It's about the way people perceive packaged things as really nice and are lured in by them."
Articles on show include 'Credit Crunchie' chocolate bars, Big Society merit badges, and a DIY composting starter kit containing an old teabag and waste paper.
"The artists have repackaged objects to change this idea of consumerism where what's actually contained in the deluxe package is more of a dishevelled object than you would expect," said Mr Aldridge.
He said reaction to the stall had been largely positive, although many people were initially bemused by it.
"We try to make the works that we commission not too heavyweight and not too conceptual," he said.
"They are supposed to be understandable but also have a good concept behind them."
Retired security guard Allan Jones and his wife Maureen were among the market customers who stopped to take a look.
"It's a bit different, isn't it?" said Mr Jones. "It makes you stop and think - on first impression it's a bit confusing, but it's a bit of fun."
His wife was even more surprised to see the art installation as she used to work in the same spot selling sandwiches.
"It certainly stops you to have a closer look to see what it's all about," she said.
"I wasn't really sure if they were real chocolate bars or not. It's certainly very different."
The artists Julia Warin and Jeff Pigott will give a talk about their work at the stall on Saturday at 1200 BST.
Kiosk can be seen daily from Monday to Saturday on the ground floor of Newport market until 28 May.
A similar stall is being run by artists in London, at Hackney's Ridley Road outdoor market.
Previous Open Empty Spaces projects include Hole in the Wall, where five artists created work for display in a metal alcove set into the exterior wall of a clothes shop in Roath, Cardiff.
Five other artists made work which was sited in and around the River Taff in Bute Park.