Cardiff University to charge £9,000 tuition fees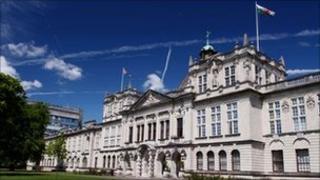 Cardiff University has become the second in Wales to set a maximum tuition fee of £9,000 per year for students from the rest of the UK.
It follows a similar decision by Aberystwyth and will apply to new students starting in autumn 2012.
Students from Wales will continue to pay £3,375 a year with the Welsh Government paying the balance.
Vice Chancellor Dr David Grant, said: "This has not been an easy decision for the University to reach."
Dr Grant added: "We are committed to maintaining access to our courses for all who have the potential to succeed.
"With rapidly reducing levels of government support we have to act responsibly and ensure that our future fee level is sufficient to maintain and develop provision across our wide portfolio of courses."
He said these included the large number of high cost programmes they delivered in science, engineering and professional disciplines.
Dr Grant added that the university would be expanding its support for students, including an expansion of its bursary programme for applicants from low income families.
Cardiff University's proposal is to charge £9,000 to all UK students, although students from Wales will get a subsidy from the Welsh Assembly Government.
Cardiff Students' Union has given a qualified backing for the proposals, saying the university had consulted them and would continue to do so throughout the fee-setting process.
Union president Olly Birrell said: "While we are disappointed that the university has had to make the decision to raise fees to this level, we welcome the commitment Cardiff is making to further developing the student experience and to providing financial and skills support for students from non-traditional backgrounds throughout the lifetime of a student's course.
"We are confident that Cardiff will remain one of the best places in the UK to live and study."