Gwynfor Evans new school name in Barry 'too political'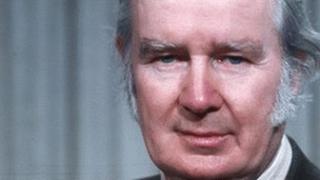 A row has broken out over the rejection of a plan to name a new primary school after a pioneering Welsh politician.
Ysgol Sant Baruc in Barry held a competition among pupils for a name for the new school it will eventually merge with.
Barry-born Gwynfor Evans, who became Plaid Cymru's first MP in an historic by-election in 1966, was chosen.
But Vale of Glamorgan Council said it was inappropriate to name the school after a political figure.
It rejected the idea of Ysgol Gymraeg Gwynfor.
Dr Evans became Plaid Cymru's first MP in an historic by-election in 1966.
He was born and raised in Barry, where his family owned a department store.
Dr Evans's name was suggested by a child at Ysgol Sant Baruc, who won a competition between pupils to name the new school.
He was elected as Plaid Cymru MP in a by-election in Carmarthen in 1966 and was a long serving party president.
In 1980, he threatened a hunger strike in a campaign to get a Welsh language TV channel, which led to a change in policy and the creation of S4C.
He died in April 2005 at the age of 92.
The council said it had recognised Dr Evans's contribution to Welsh culture by accepting a bust in his memory at Barry County Library.
'Pupils' voice'
"Schools are, and must continue to be seen to be, politically neutral and accessible to parents from all communities, backgrounds and political persuasions," it said in a statement.
"The approach taken is consistent with the previous practice for naming schools in the Vale of Glamorgan and ensures that schools have a clear identity within their local communities."
Chairman of governors, Eric Thomas, said they had received suggestions from children at Welsh medium schools in the town.
Local Plaid councillor Steffan Williams questioned the council's authority to veto the name.
"It states clearly in the assembly guidance that a school can name itself and that the local authority merely approves it later.
"For the authority to interfere in such a way goes against the spirit of giving schools more autonomy and also ignores the pupils' voice. "
The council cabinet has decided to name the new school Ysgol Gymraeg Nant Talwg, after a local stream.