Millennium Music Hall closure shocks Cardiff promoters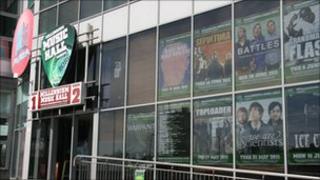 Music promoters have been left dismayed by the sudden closure of one of Cardiff's most popular rock venues.
It is understood the 800-capacity Millennium Music Hall next to the Millennium Stadium will stage its final gigs over the Bank Holiday weekend.
One promoter John Rostron said he knew the venue planned to relocate but said the short notice was "ridiculous".
A statement on the venue's website said they were currently re-scheduling some June events.
News of the closure comes just days after the venue was shortlisted by music magazine NME for a readers' poll of the best grassroots music venues in Wales.
The Millennium Music Hall opened in October 2009 in the Millennium Plaza complex alongside the Millennium Stadium, taking over a venue previously known as Sub29 and Jumpin' Jacks.
It has played host to a range of rock, pop, dance and blues artists including Shaun Ryder, Tinie Tempah, Faithless, Stiff Little Fingers, Hayseed Dixie and Johnny Winter.
Mr Rostron is one of a number of outside promoters who have had to move their scheduled gigs to other venues in Cardiff.
He said he was aware that operators of the venue had been looking for new premises, as their landlords were reportedly planning to turn the venue into a restaurant.
But Mr Rostron was surprised to receive just one week's notice of the closure, adding that it was costly and time consuming to renegotiate agreements with bands and their agents.
"It's hard enough as it is to attract bands to Wales," he said.
"It's central and a good price to hire," he said of the venue.
"Moving a gig to the Coal Exchange, for example, will cost at least another £1,000."
Steve Francis, who runs underground dance music promoters C-Y-N-T, said the venue's closure was a "huge disappointment".
"We have had to completely cancel our bank holiday party on Sunday but have managed to re-arrange the others thanks only to the compassion shown from other venues who were willing to move other events around to accommodate us.
"As Cardiff is not a city spoilt for choice for larger live gig venues, it is a real disappointment and we now have to seriously consider how we'll continue to provide the same high spec shows like we have done at the Millennium Music Hall."
No-one at the venue was available for comment, but a statement on its website said: "We are currently re-scheduling some of our events in June.
"This is due to issues relating to a planned move of premises. All tickets purchased will remain valid for any re-scheduled events."