St Cyres pupils win Shares4Schools investment contest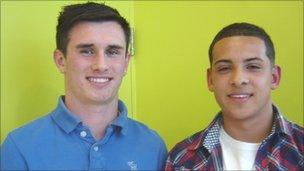 Two school pupils from Penarth have won an investment competition after their portfolio outperformed the FTSE100 index of leading shares by 34%.
Duke Durham, 17, and Ben White, 16, beat pupils from 72 other schools to win the Shares4Schools competition.
The students from St Cyres School increased the value of their share portfolio from £1500 to £2089.89.
The pair grew their fund by 39.3% during the eight month competition, whilst the FTSE100 only grew by 5.1%.
Duke and Ben researched the companies and the markets in their spare time, discussing their strategies at weekly meetings with their teacher, Mrs Lisa Shearer, and Dr Neil MacFarlane of Penarth Rotary Club.
Speaking on the Today programme, the pair said that although they were not afraid to take risks they were not reckless.
"We initially went in the high risk companies, made the money on them and then held on to them and invested the ... left over money, in safer, less risky [shares]. "
Crucially, they also worked hard to minimise their overheads, by trying to trade as infrequently as the rules allowed.
"We did that as least as possible because every time we bought or sold it cost us because you have to pay a fee .... £7.50 each time could have been the difference between winning or losing the competition."
It proved to be a shrewd move; the A-level business studies students won the competition by just £12.47.
It is the first time the school has won in the four years it has taken part.
The duo's profits will go back into a fund for the school to enter next year's competition with the balance being spent on new equipment for the business studies department.
Related Internet Links
The BBC is not responsible for the content of external sites.