Cancer healing process is Cowbridge play inspiration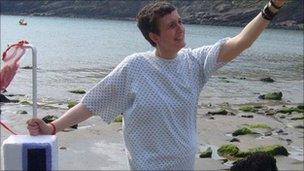 A play inspired by cancer treatment is aiming to "empower" audiences in the Vale of Glamorgan on Saturday.
Descent/Ascent (Creation Heals) is based on a journal kept by Deborah Barber-Jones after she discovered she had breast cancer last year.
She said her writing, partially based on the myth of Inanna an ancient Sumerian Goddess, kept her going.
The performance is at The Little Shop of Calm, Cowbridge at 1930 BST.
Ms Barber-Jones, who was brought up in Chicago in the United States, but now lives in Widnes, Cheshire, discovered a lump in April last year.
Her treatment began two weeks later when she received chemotherapy.
"I was a wee bit shell-shocked, but once I found the lump I sort of knew somehow what it was, and was prepared," she said.
She said that while the NHS looked after her body, she needed other ways to help her cope with the healing process.
"I've always had a journal, always written it and the play started from a 175-page book I wrote called 'my left peach' which was a philosophic look at my treatment," she said.
In the myth Inanna descents and then comes out of the 'Underworld'.
"Her story helped when I was really, really ill with the treatment," Ms Barber-Jones said.
The play itself has been put together over the past four to five months "when I started feeling much better".
The Ducks Foot Theatre company performance with Andrea Beed, Leila Chebbi and Peter Brian Jones, lasts around an hour-an-a-half.
A question and answer session will be held afterwards.
All the props and textile work used was also created by Ms Barber-Jones - even the chemotherapy pump is knitted.
The premiere of the play is being held in Cowbridge because the Minstrel Room, at the town's Little Shop of Calm, was home to Ms Barber-Jones when she trained as a drama and movement therapist.
She now uses drama and movement in her work with autistic children.
"The play is empowering, not depressing... and has lighter moments too," she said.
"It will show people that alternative methods needs to be used along side conventional medicine in the healing process," she added.