Penarth pier pavilion wins £1.68m lottery grant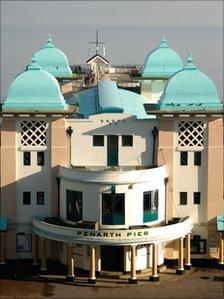 A scheme to restore an art deco pavilion on a Victorian pier has been awarded a £1.68m grant.
The Grade II-listed building on Penarth Pier has been closed since the 1990s.
The Heritage Lottery Fund (HLF) grant follows a five-year campaign by Penarth Arts and Crafts Ltd (PACL) which said it wants the pavilion to become a community "focal point".
Its £4m plans include a cafe, exhibition centre and lecture room.
Built in 1894, Penarth's is one of seven piers in Wales which began life as a landing jetty.
The pavilion was built in 1929.
Once restored, it is hoped the pavilion will host school sessions and house an exhibition centre focussing on the area's maritime past.
An observation post is also planned for birdwatchers, with live images linked from cameras in the Bristol Channel.
The pier in the town near Cardiff attracts about 315,000 visitors a year, and 10,000 signed a petition to save the pavilion.
HLF claims the project will create five jobs and will involve more than 1,000 volunteers acting as visitor guides.
Volunteer Abi Trotman, 22, said: "Growing up in Penarth I've always felt the pier and the pavilion is an integral part of the landscape."
Dan Clayton Jones, chair of the HLF Committee for Wales, said: "Penarth Pier and Pavilion is an iconic landmark for south Wales and a fine example of early 20th Century seaside architecture.
"This project will secure its future, celebrate its rich maritime history and create a focal point for community activities, both social and educational.
Ultimately, PACL has plans for a £3.9m development at the pier.
Spokeswoman Maggie Knight said: "We have always wanted to see this become a flagship project for Wales, to bring in people to the town and have the community enjoy the facilities while they learn about their history and the wonders of the waterway on which the pavilion and pier are situated."
The HLF funding has been welcomed by welcomed by Cardiff South and Penarth AM Vaughan Gething and MP Alun Michael.
Mr Gething said: "This is a terrific piece of good news for Penarth.
"The town has its own special character as an attractive town, and the developments in South Cardiff which have attracted thousands of visitors in recent years have created a new opportunity for the town to develop as an attraction for visitors in its own right."
Mr Michael added: "For many years I have been making the case for Penarth to build on its features as a Victorian seaside town by enhancing its attractiveness and providing more for people to do.
"Penarth seafront is a destination in its own right - with the pier as the central attraction - but it is also potentially a gateway to the cliff walk, to Cosmeston and into the wider Vale of Glamorgan."
Related Internet Links
The BBC is not responsible for the content of external sites.