Rockfield and Cross Ash signs have Welsh names removed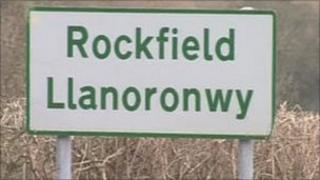 Welsh names for two places in Monmouthshire have finally been removed from council road signs after a long campaign.
Welsh versions of Rockfield and Cross Ash - Llanoronwy and Croes Onnen - were added in 2004.
But villagers complained that "detailed research has not revealed any other name being used by either Welsh or English speakers".
The council said adding the Welsh names was "the wrong thing to do".
Rockfield, near Monmouth, is famous for its recording studio, which has been visited by stars from rock legends Led Zeppelin to Take That's Robbie Williams.
'Blunder'
But although its English name is well-known in the music industry, villagers argued the council's addition of the Welsh version was a "blunder".
A notice by Llangattock Vibon Avel community council said: "The village of Rockfield has been known as such over the past several centuries.
"The name Llanoronwy was introduced by Monmouthshire County Council's highways section in 2004 without consultation with the community council, which should have been statutory consultees.
Community council clerk Roy Nicholas, himself a Welsh speaker, wrote asking for the Welsh versions of both place names to be removed.
The local authority finally agreed last month.
Mr Nicholas said he was delighted that the Welsh names had been "peeled off" the signs, adding it marked a "return to common sense".
The name Rockfield has nothing to do with "rock" or "field," but is derived from the French "rocheville," he explained.
But rather than being a literal Welsh translation, Llanoronwy refers to a church that may have been in Rockfield in the 10th Century.
Gareth Smith, development officer at the Welsh Language Board (WLB), said it did not recommend using the name Llanoronwy for Rockfield.
The WLB's guidelines say "pedantic or antiquarian forms and literal or whimsical translations should be avoided unless there is sound evidence that they are in common use both locally and nationally".
A Monmouthshire council spokesman said it had consulted the language board for advice, which aid it was not necessary to have bilingual signs in every instance.
"As neither the name Llanoronwy or Croes Onnen are in common use or close derivatives of the English form, the Welsh Language Board did not support their use. Additionally, the reference book, A Gazetteer of Welsh Place Names, provides no Welsh names for Rockfield or Cross Ash.
"Although the original decision to use Welsh names for these villages was taken with the best intentions, it is clear that in this case it was the wrong thing to do.
The removal of the Welsh names was "very much a one-off," the spokesman added.