Fatal insulin overdose nurse suspended for year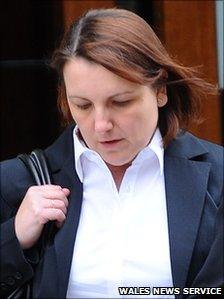 A community nurse who gave a diabetic pensioner a fatal overdose of insulin has been suspended for a year.
A disciplinary panel heard Joanne Elizabeth Evans gave Margaret Thomas 10 times the normal dose by putting a decimal point in the wrong place.
Mrs Thomas, 85, from Pontypool, died six hours later.
A Nursing and Midwifery Council (NMC) panel in Cardiff decided against striking off the Gwent Healthcare NHS Trust worker.
Chairman John Matharu said they accepted there had been extenuating circumstances leading to Mrs Evans' fatal mistake but ruled there was an "ongoing risk" to patients if she continued nursing.
"We are satisfied that she is not competent in the administration of medicines," he said.
"We consider there is an ongoing risk to patients - the public must have confidence in the profession."
Mrs Evans may be allowed to continue her career when her case is reviewed after her suspension is over.
The hearing was told Mrs Evans went to see Mrs Thomas on 2 June 2007 after the pensioner had collapsed on the doorstep of her home in Pontnewydd, Pontypool, following a shopping trip.
Mrs Evans tried to inject her patient with two insulin pens, but they both jammed, the committee was told.
She then fetched a regular syringe from her car instead of one usually used for insulin - a substance measured in units, as opposed to millilitres.
Mrs Evans was said to have wrongly converted the amount and injected Mrs Thomas with 3.6ml - approximately 360 units - instead of the 36 units she should have given.
Alex Mills, representing the NMC, said: "There was a miscalculation, not carried out on paper or on a calculator but in her head.
"This was a fundamental departure from that which she had done in the past.
"She did not call for help and she never acknowledged that she was out of her depth.
"Although she was someone thought very highly of, she made very significant errors that had a very significant impact."
Mrs Evans's colleagues described her as "well respected" and "very caring".
The hearing was told Mrs Evans was "stressed" by her workload at the Mount Surgery in Pontypool.
She was not sleeping well following an argument with a neighbour and she also had concerns for her daughter, who had suspected appendicitis.
Mrs Evans told the panel of her "total devastation" at her error and said: "I could throttle myself."
"The nightmares come back to me and I feel it's like a scab that I'm constantly picking at and it's not been healed yet."
Two years ago an inquest ruled that Mrs Thomas had been unlawfully killed although the Crown Prosecution Service decided not to press any charges.
Related Internet Links
The BBC is not responsible for the content of external sites.