Rorke's Drift hero Edward Savage memorial unveiled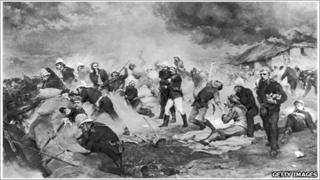 A memorial has been unveiled in a Cardiff cemetery to a survivor of the battle of Rorke's Drift.
Newport-born Edward Savage was 20 when he fought in the battle, immortalised in the film Zulu, in South Africa in 1879.
In hospital with an injured knee, Pte Savage is reported to have jumped through a window to join the fighting.
Friends of Cathays Cemetery (FOCC) organised the tribute after finding his grave unmarked.
The defence of Rorke's Drift began on 22 January 1879, when a garrison of 150 British troops held off 4,000 Zulu warriors on the banks of the Buffalo River in Natal.
Eleven were eventually awarded the Victoria Cross.
John Farnhill of FOCC explained: "One of our members mentioned there was a Rorke's Drift survivor buried there. We had a look and found there was no headstone."
The group learned that Savage, the son of Irish immigrants, joined the army in 1877 at 18 and sailed the following year to South Africa, where he saw action before being sent to Rorke's Drift.
Savage, who served with the 24th (2nd Warwickshire) Regiment of Foot and did not receive the VC, was interviewed by a newspaper after arriving back in Wales.
'Miserable night'
The report said: "Seeing the danger drawing nearer, though suffering from an injured knee, he jumped out of the window into the fort. He assisted in the defence, lying on his side and taking aim at the Zulus through the opening in the biscuit boxes."
Despite cutting his hand "he, however, kept 'pegging away' and did some execution."
Later that night when under fire Savage heard a fellow soldier called Fagan cry out for water. Savage crawled along to help Fagan, but he died before daylight.
"Savage says he never spent such a miserable night in his life," said the report. "There was a momentary danger of being shot dead and the likelihood of perishing of cold and hunger."
After leaving the army Savage married, settled in Riverside, Cardiff, and took a job as a council worker. He died in 1893, aged only 32.
FOCC received support from various organisations involved in the Rorke's Drift story, including Royal Welsh Firing Line, the Cardiff Castle Military Museum, to erect a memorial on his grave.
They also managed to locate some of Savage's descendants in Canada.
His great-grandson Derek Bumstead, of London, Ontario, said he knew nothing about his illustrious predecessor until he was contacted by FOCC.
"I was thrilled because the Savage branch of my father's family tree was virtually unknown to us," said Mr Bumstead, whose father Fred emigrated to Canada shortly after World War II.
'Tremendously proud'
"Naturally I was very proud to find out that my great-grandfather served in such a famous battle. "
However, he admitted it was a case of mixed emotions.
"The source of my sadness was that my father died not long before we received this information about his grandfather," said Mr Bumstead.
"Dad was from a very close family and was always tremendously proud of his heritage. He would have been really thrilled to have known about Edward Savage and his courageous exploits in Africa in this pivotal battle.
"One of his favourite films happened to be Zulu. I have several fond memories of watching the movie with my dad on different occasions over the years... and can only imagine how much more the experience would have meant to each of us had we known that dad's grandfather was actually there.
"I would love to be able to travel to Wales one day soon and visit the memorial with my wife and children."
"There has been a lot of interest from among the Rorke's Drift community and relatives of people who fought in the battle," he said.