Monmouthshire's first public observatory opens in Usk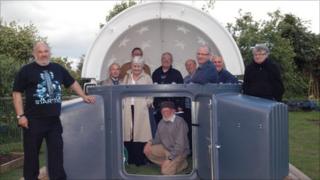 The first publicly accessible astronomical observatory in Monmouthshire has been opened in Usk.
The Alfred Russel Wallace observatory was funded by a grant by Monmouthshire council and brought in from Canada.
It was named after the Victorian anthropologist, who hailed from nearby Llanbadoc.
He independently proposed a theory of evolution due to natural selection, which prompted Charles Darwin to publish his own theory.
"It is in recognition of Wallace's contribution to astronomy and astrobiology that Usk Astronomical Society has dedicated the observatory to his memory," said Usk astronomical society president David Thomas.
The observatory was funded by a £6,500 grant provided through Monmouthshire council.
It was ordered from Canada and assembled by volunteers at the society on land originally ear-marked for allotments.
Dr Paul Roach, senior lecturer in astronomy at the university of Glamorgan, officially opened the observatory.
"It was one of those things where everything comes together at the same time," added Mr Thomas.
"As an organisation, we've been active in schools and the public for over 30 years now. One of the things we want to have was an observatory.
"We got the land and we had a grant for £6,500 and we spent £4,500 on the observatory. We hope to use the rest on computer equipment as the observatory is computer-controlled.
"As far as I'm aware, it's the only one in Monmouthshire that is open to the general public and organised groups."
As well as continuing with the group's outreach programme, where a planetarium is taken to schools and societies to inspire them to pursue science, the society is now making plans for a radio telescope.
Mr Davies added: "I would like to congratulate Usk astronomical society for forming something of real value to the culture and education of the local community.
"I've no doubt it will use the new observatory to go from strength to strength."