Head teacher of troubled school cleared of charges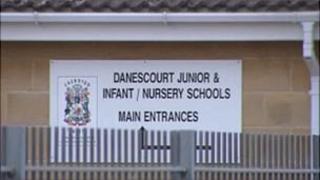 A head teachers' union has welcomed a decision not to bring disciplinary charges against the head of a troubled primary school.
Danescourt Primary School has been at the centre of industrial disputes after four teachers were suspended last year.
The NAHT Union said the dispute arose when head Sharon Randall-Smith addressed under-performance and sought to raise standards.
Cardiff council confirmed she has been cleared of all allegations.
"We are aware of the challenges around Danescourt Primary School and are continuing to work constructively with the board of governors and the school to resolve matters," said a council spokesman.
"We understand that a committee of the governing body has determined, in the light of an independent investigation, that the head teacher should not face any disciplinary charges.
"However, we continue to be concerned at the long-standing breakdown in relationships at the school and have been engaged in on-going discussions.
"In order to work towards a resolution of these difficulties and to identify ways forward, the council has invited ACAS (the conciliation service) to work with all parties concerned."
Danescourt Primary School was formed by a merger of Danescourt junior and infant schools in 2008.
Problems at the school surfaced last October when four teachers were suspended with strike action taking place in December and February.
The council stressed previously there were no child protection issues involved at the school, which, at its last inspection report, had 348 pupils.
The suspended teachers returned to work in March and now Ms Randall-Smith has been cleared of any wrongdoing.
"The findings of an independent investigation have confirmed that the head teacher acted legitimately and professionally," said an NAHT union statement.
"The governing body has accepted the report and its findings.
"The national association of head teachers has confidence that Cardiff county council will build on this decisive finding to return a talented head teacher to duty and send out a clear message to the heads, teachers and parents of Cardiff that the council is serious about performance and will support head teachers to raise standards."
But a joint statement from other unions, NUT, NASUWT, ATL Cymru and Unison, expressed surprise at the development and said issues were still unresolved, with negotiations "delicate".
"The NAHT have acted unwisely and unhelpfully to say the least," it said.
"To release a statement suggesting that their member can return to work in circumstances in which they know matters remain unresolved is at best irresponsible."
Teaching unions have been working together towards "securing a bright and positive future" for the school.