Captain Robert F Scott plaque replaced at Cardiff hotel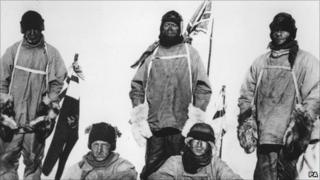 A new plaque to mark Cardiff's links with Captain Scott's Antarctic voyage has been unveiled at a city hotel.
Scott held a fund-raising dinner at the Royal Hotel in 1910 before setting sail for the South Pole from Cardiff docks on the Terra Nova.
An earlier plaque commemorating the event disappeared 11 years ago.
A replacement was unveiled by John Evans, grandson of Petty Officer Edgar Evans, one of the five members of Scott's ill-fated party who perished.
The ceremony took place on Wednesday, the anniversary of Scott's departure.
A farewell dinner for Scott's expedition party was hosted by Cardiff Chamber of Commerce at the Royal Hotel on 13 June 1910, two days before they left for Antarctica.
The banquet was held in the oak-panelled Alexandra Room, now known as the Captain Scott Room.
John Evans, whose grandfather came from Middleton, Gower, has been invited to perform the unveiling.
He also plans to visit the Antarctic in 2012 along with relatives from all five families of Scott's polar expedition party who will hold a memorial service at the final resting place of their ancestors.
Mr Evans said: "I am honoured to have been invited to unveil this marvellous plaque in memory of the British Antarctic Expedition 1910-13.
"I am looking forward to fulfilling my life-long ambition to walk in his steps in Antarctica, to see some of the sights he experienced, where my grandfather both conquered the South Pole and sadly lost his life along with the Pole Party."
'Rightful place'
Mr Evans added that he would continue to head a campaign to raise funds for a memorial statue to his grandfather in Swansea.
Hotel manager Jon Swingler said: "It is incredibly important for us to play our part in commemorating the historic connections between Cardiff and Captain Scott.
"Having exhausted routes to locating the old plaque we decided to fund this replacement which returns to its rightful place for the citizens of Cardiff, as well as visitors to the city from all over the world."
Although an appeal to track down the original plaque failed, it did prompt a response from nuns at a convent facing demolition.
They said their building had wall panels from the Terra Nova, which were then given to the hotel and installed in its bar.
The plaque is sited next to the St Mary Street entrance of the hotel.
It also hosts an annual dinner by the Captain Scott Society, founded after the discovery of the original menu in 1982.
Peter Lloyd Jones, chairman of the society, said: "I am delighted that that historic plaque commemorating Captain Scott has been reinstated at the Royal Hotel after what has been quite a struggle over the years."