Take That Cardiff concerts: Power firm assures fans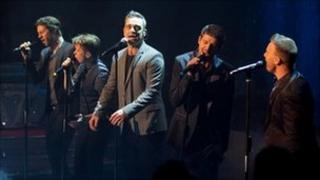 A power company has assured concert goers that Wednesday night's Take That show at Cardiff's Millennium Stadium will go ahead uninterrupted.
Western Power Distribution (WPD) said a fault was detected last weekend with an underground cable near the stadium.
About 60,000 fans flocked to Cardiff on Tuesday night for the first of the band's two city concerts.
"We're all confident that unless something totally unforeseen happens that supplies are stable," said WPD.
A spokesman for the firm confirmed: "There are issues in the area which we've looked at with the stadium management and with Take That's management."
But he added: "If a fault does occur, then contingencies are in place."
The group, who performed two gigs in Cardiff in 2009 as a four-piece, are now reunited with Robbie Williams.
Williams split his trousers on stage on Tuesday during the opening number, Let Me Entertain You.
The star told the crowd: "I'm so excited, I split my kecks," and TV screens on the stage then focused on the area in question.
After asking fans to post videos of the mishap on his website, he carried on singing with his damaged trousers, before eventually pulling them off.
"The stage production cost about £15m to put together, including a robot standing 30m (100ft) tall when fully upright.
Messages from fans on social network sites following Tuesday night's concert suggest many were delighted with the performance.
"Still in a Take That haze. A lovely, lovely Take That haze," one wrote on Twitter after the concert. "What a show."
Another posted: "Awesome show! Excellent, what a performance, what a venue."
A total of 1.75m tickets have been sold for the band's European tour this summer.