Sheep on house roof in Pontycymmer escapes unhurt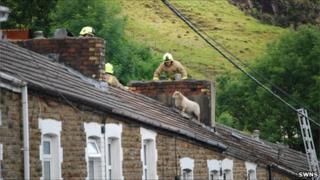 Firemen have rescued a sheep from the roof of a terraced house in south Wales.
The lost sheep spent 40 minutes on the tiles at Nant-Yr-Ychain Terrace in Pontycymmer near Bridgend, which backs onto a hill.
"It must have gone through a neighbour's back garden onto our bathroom extension and then the roof," said stunned homeowner Claire Walters.
The animal eventually jumped down onto another extension and escaped unhurt.
Mrs Walters, 38, said she was watching television on Saturday afternoon in the house which she shares with husband Neil when she heard a bleating sound.
"We occasionally get sheep wandering along the street so I didn't think any more of it."
When the noise continued, Mrs Walters said, she went outside to investigate further.
"I turned and looked at the house and saw the sheep on the roof," she explained. "I was stunned when I saw it."
Mrs Walters said she thought the sheep gained entry to a neighbour's garden, then leapt onto a bathroom extension and up onto the roof.
"Someone I think called the fire service out and before long there were four firemen up there trying to rescue it," she added.
"All my neighbours were out on the street, there must have been 15 of us by the end."
Mrs Walters said the sheep kept walking back and forth on the roof between the chimney stacks for 40 minutes.
"Then it jumped over a gap four doors down onto another roof, walked down another extension and got back down onto the back lane," she explained.
"It was funny at first but then it was soon clear that the sheep was distressed."
South Wales Fire and Rescue Service confirmed that it had dealt with an emergency call at 1402 on Saturday at the street, and that the sheep escaped unhurt.
Mrs Walters, a senior care assistant who works at a residential home in Tondu near Bridgend, said she had not been back to work since the incident.
"I'm dreading going back to work," she said, "because everyone will be taking the mick."