Llanishen reservoir: Victorian Society objects to homes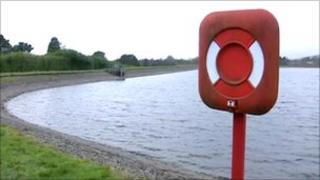 A heritage group has joined a campaign opposing plans to build more than 300 homes in the basin of Llanishen reservoir in Cardiff.
Reservoir owner Western Power Distribution has been trying for over nine years to build houses in the area.
The Victorian Society said the scale of the proposals were "incompatible with the character and appearance" of one of Wales' largest listed structures.
Western Power Distribution (WPD) refused to comment.
WPD has been engaged in a long-running planning battle with Cardiff council over its plans to develop Llanishen reservoir, which includes proposals for homes and areas of conservation.
The Victorian Society said the reservoir was of special interest and must not be destroyed. It has written a letter of objection to the planning inspectorate ahead of a planning inquiry next month.
Spokeswoman Heloise Brown said: "A residential development on this scale is fundamentally incompatible with the character and appearance of one of the largest listed structures in Wales.
"Llanishen Reservoir remains an attractive and striking reminder of a visionary 19th Century engineering project, but the irreversible changes needed for this scheme mean the reservoir won't be easily recognisable and its significance will be lost."
In February, the High Court in London overturned Cardiff council's decision to designate the land for nature conservation.
The council had designated the land under the national Parks and Access to the Countryside Act 1949, which gave priority to nature conservation over public access and recreation.
But the Public Health Trust Act 1875 already imposed a statutory trust over the land, giving priority to public access and recreation.