Biomass wood-burning plan for Llynfi power station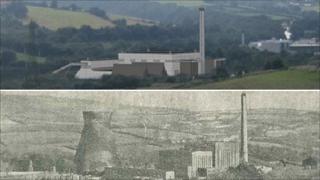 A derelict power station near Bridgend may be turned into a wood burning plant to produce electricity.
The old coal-fired Llynfi power station on the A4063 closed in the 1970s.
Morgan Credit Energy is seeking planning permission for the site which it said could supply enough energy to power 53,000 homes.
The shell of the original plant still stands but the cooling towers were demolished and all the machinery removed when it shut down.
The company said it had submitted a planning application for the development to Bridgend council.
It has prepared an Environmental Impact Assessment looking at a range of issues including potential flooding, air quality, noise, visual impact, traffic and ecology.
Wood to power the plant would be sourced from abroad and shipped into Newport before being transported by train to the site north of Coytrahen and adjacent to the River Llynfi.
Public exhibition
As part of its plans Morgan Credit Energy said its plans involve the construction of a new roundabout junction at the entrance to the site on the A4063 and reinstatement of former railway sidings.
It said the plant would use green technology with the wood sourced from managed forests and clean waste.
The original power station backs to the 1940s.
A public exhibition about the plans will be staged at the Philip Squire Community Centre, Coytrahen, on Saturday 25 June between 1000 and 1500 BST and on Friday 1 July from 1200 to 1900 BST.
Plans for a much larger wood burning plant, capable of producing around 10 times as much electricity, have been given the go-ahead in nearby Baglan, Port Talbot.
But that faced a campaign from residents concerned about its impact.