Cardiff Singer of the World finalists battle for crown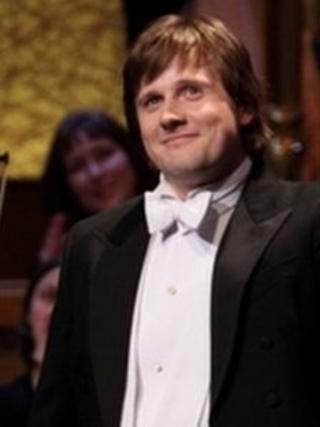 Five opera singers from across the globe are battling it out to be crowned BBC Cardiff Singer of the World.
After being selected out of 20 competitors, the remaining singers are now looking forward to the final of the international singing contest.
Valentina Naforita, of Maldova, and Ukraine's Andrei Bondarenko are competing in both the Song Prize and Sunday's grand final.
Both said it was a "dream come true".
The Song Prize, and £5,000, will be awarded on Friday, after the finalists perform their own choice of song in front of an audience and jury of world class musicians.
Baritone Bondarenko, 24, said he hopes to match the achievements of his idol, bass baritone Bryn Terfel, the Song prize winner in 1989.
"Bryn Terfel has a mixture of everything an opera singer must have - he has a wonderful singing voice, is a wonderful actor and a great musician," he said.
Other finalists in the Song Prize are Leah Crocetto of USA, Maire Flavin of Ireland and Olga Kindler of Switzerland.
On Sunday, Bondarenko and Nafornita will compete against three other finalists - Olesya Petrova, from Russia, England's Meeta Raval and Hye Jung Lee, of South Korea - for the main trophy and £15,000.
Winning the prestigious accolade would be the icing on the wedding cake of 24-year-old Nafornita, who got married only a month ago.
"It's a big honour just to be in the final," she said.
"I don't have these kinds of experiences - I've met very nice people, sang to great audiences with a great orchestra and conductor.
"I only got married a month ago so I've had two massive events in my life."
A former pop singer, who also enjoys ballet, Nafornita has not looked back after discovering opera when she was 17.
She graduated from the Stefan Neaga Music College in Kishinev in 2006 and continued her training at Romania's National University of Music.
'Wonderful teacher'
She has sung with the Romanian National Opera and the Romanian Athenaeum in Bucharest. Later this year she will sing Norina Don Pasquale at the Bucharest National Opera House.
"I don't know if it's possible to sing both kinds of music," she said
"If you want to do opera, you only do opera," she said, adding that her own musical idol is the competition's patron and judge Dame Kiri Te Kanawa.
Bondarenko, who also plays the saxophone, found his baritone voice at the age of only 13.
He trained at the National Tchaikovsky Academy of Music in Kiev and has been a soloist at the Mariinsky Academy of Young singers since 2007, which his wife Eleonora Vindau also attends.
This year, he is taking part in a new Michael Sturminger project, The Giacomo Variations, alongside actor John Malkovich.
"When I started saxophone lessons at the age of 10 I knew I wanted to be a musician," he said.
"Then I met a wonderful vocal teacher and he taught me to love opera."
Established in 1983 by BBC Cymru Wales, past winners of the competition include Karita Mattila, Dmitri Hvorostovsky, and the 2009 winner Ekaterina Scherbachenko.