£50m Wales heroin gang jailed for almost 70 years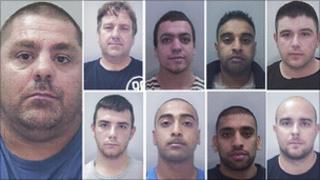 Gang members who planned to flood south Wales with drugs worth £50m have been jailed for a total of almost 70 years.
The 10 men were behind what police told Cardiff Crown Court was the biggest ever seizure of heroin in Wales.
An investigation smashed a network stretching from Wales to north west England producing the drug on an industrial scale.
Coordinator Det Supt Chris Dodd said: "This highly organised criminal network believed they were above the law."
On Friday the gang was jailed for a total of 68 years 10 months by Judge Rhys Rowlands.
The court heard how every major town along the M4 was a target for the gang.
As more and more heroin began to show up in blood tests carried out at police stations, undercover officers from the Tarian regional task force were deployed.
They watched as deals were done in public places, with one favoured spot being outside the Techniquest Science Museum in Cardiff.
When one courier was caught, it took the gang just hours to replace mobile phones and send another assignment of heroin on the road to south Wales.
On Friday Judge Rowlands described the speed with which they got back into business as "astonishing".
He told them they had been motivated by greed, plying an evil trade to support lavish lifestyles.
They were foiled by an intelligence-led operation by Tarian officers working with Gwent police, South Wales police, Nottinghamshire police, Greater Manchester Police and the Serious Organised Crime Agency (Soca).
Exactly a year ago, on 17 June 2010, arrests were made in Newport, Cardiff, Llanbradach, Manchester and Nottingham.
The 17.6kg of heroin seized on that date had an approximate street value of £1.76m.
Officers in the Stockport area of Manchester also discovered a hydraulic press, and around 300kg of substances used as cutting agents.
When cut together police said the substances could have led to the supply of half a ton of heroin with an approximate street value of £50m.
Also recovered was a total of £150,000 in cash.
Det Supt Chris Dodd, the Tarian coordinator, said the gang were able to distribute drugs on an industrial scale with impunity.
He said that the police will now work to confiscate the gang's assets.
Supt David Johnson of Gwent Police said: "The gang attained a certain status in the area as dealers, and their criminality created a significant negative impact on the local community.
"I'm delighted that they are no longer able to cause misery in our city.
"It has been said many times before that drug dealing is a vile trade which has catastrophic effects on people, families and communities, and I echo that again today."
Those sentenced with conspiracy to supply Class A drugs after pleading guilty were:
John Almond,46, of Didsbury, Manchester, sentenced to 13 years
Ritesh Patel, 28, of Cathays, Cardiff, 11 years
Stuart Lee James, 25, of Somerton, Newport, 8 years 6 months
Terence Peter McMullen, 32, of Oldham, Manchester, 6 years
Anthony Charles Clarke, 50, of Llanbradach, Caerphilly, 5 years 4 months
Pinakin Patel, 32, of Cathays, Cardiff, 4 years
Mohamed Shoheb Hussein, 28, of Ely, Cardiff, 4 years
Daniel Eric Bowyer, 22, of Bishpool View, Newport, 3 years 6 months
Daniel James John Carragher, 21, of Didsbury, Manchester, 3 years 6 months
Also convicted was Paul James Morten, 44, of Disley, Manchester, for possession with intent to supply Amphetamine and conspiracy to supply Class A controlled drugs. He was sentenced to 10 years.
Charlotte Farrell, 24, of Crumpsall, Manchester also pleaded guilty to money laundering on 12 March 2011 and was sentenced to 200 hours' community service.
Meanwhile in a separate case at Swansea Crown Court, ten people have been jailed for a total of 36 years and eight months following an undercover police operation against the heroin and crack cocaine trade in Carmarthen.