Murder accused 'giggled' about Rebecca Aylward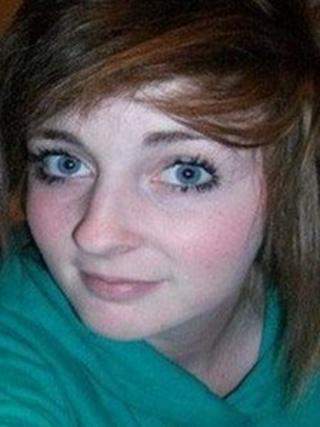 A 16-year-old accused of battering his former girlfriend to death with a rock giggled when asked where she was, Swansea Crown Court has heard.
The body of Rebecca Aylward, 15, of Maesteg, near Bridgend, was found in woodland last October.
The trial heard from a friend of the accused who was with him a couple of hours before the alleged murder.
The defendant, who cannot be named for legal reasons, denies murder and the trial continues.
The witness, giving evidence via video link, said his friend was "calm" as he described how he had attacked Rebecca.
The jury heard that the defendant also told the witness and another friend "the time has come", before walking into woodland with his ex-girlfriend, who was also known as Becca.
The witness said: "We knew he was going to meet Becca and they were going into the forest.
"When he got off the phone he said 'the time has come'. I asked him what he meant and he said 'I'm just messing'."
A couple of hours later the defendant rang his friends and told them to come to the forest, the court heard.
The witness said he asked his friend "Are you with Becca?". He told the court that the defendant giggled as he replied: "Define with?".
The second friend ran ahead, expecting to meet up with the accused teenager and Rebecca, but returned alone a few minutes later, the court was told.
The witness said: "He came back and said Becca was just laying there face down on the floor.
"He said at first our friend was stood over her a bit panicky but, after a second, he was back to his calm self and was normal.
"He told us he hit her over the head with a rock. He said she was screaming and he carried on hitting her when she dropped to the floor.
"He said there was blood on the rock so he threw it into the bushes. We were shocked and quite scared - but he was calm and his usual self.
"When we came out of the forest, he was calmest out of all of us. We were quite in shock but he was sort of laughing.
'Confident'
"He was just being himself. He didn't seem bothered. He thought in his head he was going to get away with it - that is how he came across.
"He was really confident and giggling. He didn't see any consequences."
The court heard the witness was scared and crying when told his parents the day after the attack.
Rebecca's body was found by police the morning after the attack on Saturday 23 October, at the start of half term.
The defendant denies murder and blames his friend for the killing. The trial, which is expected to last five weeks, continues.