Glamorgan University rape soldier's 'meticulous plans'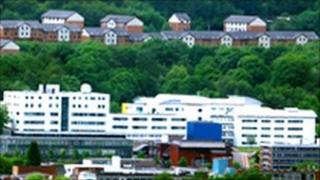 A soldier accused of raping a student at the University of Glamorgan also "meticulously" planned sex attacks against three teenagers in Wiltshire, a jury has heard.
L/Cpl Jonathan Haynes, of the Royal Logistics Corps, cruised the streets of Chippenham, looking for victims to drag into his car, the jury was told.
Mr Haynes, 30, of Northampton, denies all charges, including rape and kidnap.
The trial at Bristol Crown Court continues.
Mr Haynes denies six counts of rape, two of kidnap and two of attempted kidnap.
On Friday, the court was told the level of planning Mr Haynes went to before attacking his victims.
Prosecutors say he would drive around Chippenham, identify his targets and then put on a black balaclava and gloves.
He would then grab his victims by the throat and drag them into his car before driving them to a secluded spot and raping them.
The court also heard how he would then photograph them intimately.
After the attacks ended they were ordered to clean themselves to destroy forensic evidence, Bristol Crown Court was told.
University campus
Ian Lawrie QC, opening the case for the prosecution, told jurors: "The evidence laid before you establishes that the man responsible for these offences is Mr Haynes and the evidence that is going to be heard will set that out."
The first kidnap and rape happened on 13 September 2009 in Chippenham.
Just 13 days later, Mr Haynes is accused of raping a student in halls of residence at the University of Glamorgan in Pontypridd.
The court heard the 18-year-old had been out during freshers' week and was sleeping on an inflatable mattress on the floor of a friend's room when Mr Haynes forced entry into the building.
"She woke up to a light from a mobile phone being shone in her face and a knife being pressed against her neck," Mr Lawrie said.
"The attacker, who the Crown say was Mr Haynes, forced her to undress and raped her."
The court heard Haynes knew Pontypridd having worked there previously and his on-off girlfriend also lived in the town.
Tracking device
Automatic number plate recognition equipment on the Severn Bridge showed him entering and leaving Wales before and after the rape but he told police he made an impromptu visit to his girlfriend but she was not at home.
But Mr Lawrie said an examination of his mobile phone placed him at the campus at the time of the attack.
The following February, he allegedly attempted to snatch two 14-year-old girls from a country lane near Chippenham.
Weeks later, he is accused of kidnapping a 17-year-old girl off the streets of Chippenham and repeatedly raping her.
Mr Lawrie told the jury that for the first attack, Mr Haynes drove an Audi hire car.
That vehicle was fitted with a GPS tracking device, although he had no idea of this.
Following his arrest, Mr Lawrie said detectives traced Mr Haynes's movements throughout July and August and found he had been cruising the streets of Chippenham during the early hours - a method known as "sharking".
The jury was presented with detailed evidence from the tracking device that revealed Mr Haynes's movements.
Mr Lawrie said: "What this shows is the lie, the crown will say, constructed by Mr Haynes, that he did not know Chippenham that well.
"The Audi hired to him was cruising on a number of days after midnight."
Forensic analysis of his laptop computer showed that Mr Haynes carried out hundreds of searches on the internet for information relating to the attacks.
Jurors were told that Haynes was using Google to find information on the attempted kidnapping of the schoolgirls before it had even been reported to the police.
"He is not only making an inquiry about an offence nobody knows about, he is also checking up on the offences relating to the earlier rapes in Glamorgan and Chippenham," Mr Lawrie said.