Maerdy church protesters seal archbishop meeting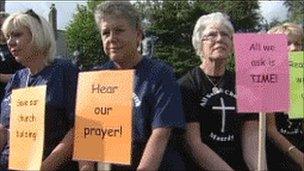 The Archbishop of Wales has agreed to meet parishioners who are fighting the closure of a Rhondda Cynon Taf church.
Dr Barry Morgan had previously said he would only meet them if they ended their 10-day sit-in at All Saints Church in Maerdy.
But he will sit down with the parochial church council (PCC) next Tuesday.
Some of campaigners still held a silent protest on the cathedral green outside the archbishop's residence in Cardiff on Wednesday afternoon.
The PCC, which is made up of elected members from the three local churches of Maerdy, Ferndale and Tylorstown - the benefice of Rhondda Fach Uchaf, voted to close All Saints
But the Maerdy branch abstained from the vote over the church's future, which needs £400,000 in repairs.
"We need to find a way forward and it seems sensible for me now to meet the PCC, listen to what its members say and discuss all the options," said Dr Morgan.
The silent protest followed Dr Morgan's earlier comments that the church sit-in would have to end before he would talk.
One protester, Rhondda Cynon Taf councillor Gerwyn Evans, said: "For him (the archbishop) to say he would only speak to us if we vacate the premises - that just won't happen.
"We're worried that if we leave, the authorities will come and strip it and that'll be an end to the church. There's been no consultation with members of the church.
"The community centre [which the church has arranged as an alternative venue] is no place of worship.
"The amount of support has been outstanding. Everyone is of the same opinion, we can't lose the church."
Mr Evans said the church warden Barbara Daniel emailed Dr Morgan on Monday asking for an urgent meeting.
He added: "We need a way forward. We'll be there for an hour, just so we can state our case.
"We don't want handouts, all we want is an opportunity to raise the money ourselves - a year to do that - what's 12 months in the church's 126-year history?"
Meanwhile, it has emerged the church may not be able to permanently hold alternative services at Maerdy community centre.
Bethan Williams, the community centre's secretary, said the informal agreement to allow the congregation to worship there was on the presumption that All Saints Church would reopen after the £400,000 of repairs.
The offer was made following conversations with members of the congregation and was not expected to be a permanent arrangement, she said.
"I wasn't aware of what was happening at the Parochial Church Council meeting [which voted to close All Saints Church outright]. I thought it was for the church to be refurbished.
"I told the vicar and the rural dean on Saturday that if it was a permanent measure, then a letter would have to come to the trustees requesting that," Ms Williams added.
A Church in Wales spokesperson said: "We want to continue providing ministry in Maerdy and are grateful to the community centre for allowing us free use of space for worship.
"We have now been told that this is a temporary arrangement and that we will need to apply to the trustees if we want it to be permanent.
"Hopefully we will find a permanent solution which will enable church members to meet in a building which is fit for purpose and which doesn't take up all their energy and money to maintain."